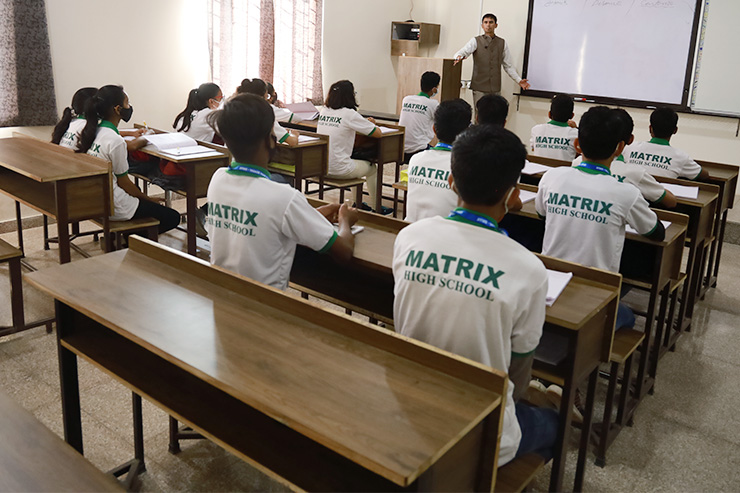 There is no doubt that modern technology will drive the future of education all over the world, including in Rajasthan. Advanced teaching tools that have come up have proven to be very effective for today's students. With the education system that perfectly fits in the students' hands, it has become possible to offer better quality education to students by the schools.
Now, all the CBSE schools in Rajasthan are now integrating the latest technologies and trends to provide the students with a trending education system. Most schools have started focusing on digital education. Let's talk about this in detail.
Nano Learning- Helping Students to Understand Complex Topics
Students can easily get distracted when they are going through a difficult topic. And to solve these issues, almost all the CBSE schools in Rajasthan have started deploying nano-learning methods. Under this teaching method, teachers offer students information in a smaller amount over a short time period. 
When they learn, in short, the process, understand and retain that information. Besides, it has been proved that this method has increased the productivity of students as well as their ability to learn. Schools are now identifying the students' requirements and setting learning objectives. After that, they deploy the right teaching methods to make it successful.
The rapid digital transformation in the education industry has helped many schools in Rajasthan as well as Sikar to use a concept-based learning approach. Using this, they have managed to help students to develop their major skills and prepare them for great careers in the future. Besides, it has also helped the schools to move from teacher-focused learning to student-focused learning methods. But you children can take advantage of this only at the best CBSE school in Sikar.
Unified Learning Experience
Marksheets, group discussion, interview, and progress card. This is what a student's journey in school looked like. Utilizing the latest technology, most of the CBSE schools located in Rajasthan and Sika are now able to create a learning path for the students from school to college. 
They create a chart by considering different things like information related to assessment, college details, courses that students want to go for, and more. Based on the information, they create a personalized study plan for the students and consider the faculty requirements. Well, this has proved to be very effective in offering a better education system to students.
Since the introduction of digitization, schools are now introducing digital library facilities, allowing the students to read content and access information without visiting a library physically. With this, students can easily find the right book using features like in-built content search. 
On the other hand, it has allowed the students to use the library anytime they want. Furthermore, it helps students to access updated resources as this has enabled the schools to update their digital libraries regularly. While searching for the best CBSE school in Sikar, you should make sure that the school has this facility. '
Most schools have introduced AI-powered online test systems. Such systems allow them to enjoy personalized evaluations. Using this, teachers can also have some valuable insights into the students' performance for each subject and topic. On the other hand, as online systems are used to evaluate the skills of the students, it can also help to eliminate the biases of manual evaluation.
Matrix High School- A Leading CBSE School In Sikar Offering Modern Education System to Its Students
The schools that have successfully adapted to the latest and modern teaching methodology can always help the students to perform better in a different field. And if you are looking for such a school, then Matrix High School, the Best CBSE school in Sikar, will be an excellent option for your kids. The school focuses more on creating a technology-based education environment so that every student in Rajasthan can enjoy a quality education. 
It has introduced facilities like personalized analytics, student communication, online tests, a digital library, and more. The school's state-of-the-art digital facilities are something that has made it one of the best CBSE schools in Rajasthan. So, what are you waiting for? If you want your kids to have a bright future, then it's time to make the right decision by choosing Matrix High School.